Access Your Home's Equity with a Home Equity Line of Credit
What is a home equity line of credit (HELOC)?
A Home Equity Line of Credit is a second mortgage that gives you access to cash based on the value of your home. You can borrow up to 90% of the equity in your home. (This may vary by lender.) You can draw cash from a home equity line of credit and repay all or some of it monthly like you would on a credit card. If you are looking for a loan, borrowing money from the equity in your home will often get you a more competitive rate. But keep in mind, that a HELOC is not intended to be used as a small loan for minor expenses.
SCHEDULE A CONSULTATION
APPLY FOR A LOAN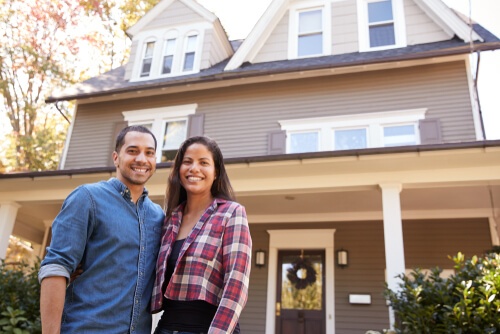 Why get a Home Equity Line of Credit?
You can use a HELOC to consolidate debt at a lower interest rate.
HELOCs are flexible and can be used for anything that requires cash, including medical bills, college tuition and other expenses. You can payoff high-rate credit cards, car loans or personal loans to increase your cash flow in this inflationary economy. If you have a lot of high-interest debt, such as credit card debt, a HELOC can help you consolidate all that debt into a single, lower-interest loan that can potentially save you a bunch of interest. A good example: If you are struggling to keep up with monthly payments on more than one credit card, consolidating those payments into one HELOC payment may provide the payment relief you need.
Home improvement projects. 
You can fund home renovations and repairs to your current house versus buying a new home at a higher interest rate. If you need money to improve your current home and increase its value, it may make sense for you to use your home's existing equity with a HELOC, rather than a standard home-improvement loan.
As your home value increases, you may be able to replace your current HELOC with a new HELOC and get even more cash. 
Refinancing a HELOC is similar to refinancing a first mortgage. If you have enough equity in your home, you may qualify to refinance your current HELOC by refinancing it into a new HELOC, or refinancing into a new first mortgage. Refinancing a HELOC is similar to refinancing a first mortgage.
Increase your home value in preparation for a future sale.
A major project like a full kitchen remodel may give you a dollar-for-dollar return on your investment. Even less extensive improvements, like finishing off a basement or a fresh coat of paint are also good ways to increase your home's value. All of these may add to the value of your home if you are preparing to sell in the future.
Get cash to build a reserve account.