FHA Insured Loan in Seattle & Surrounding Areas
Our FHA Insured Loans can help you:*
Buy a home with just 3.5% down.
Qualify with less-than- perfect credit.
Get approved with a lower income than a traditional mortgage.
More lenient underwriting guidelines.
Achieve your dreams of homeownership.
WHAT IS AN FHA LOAN?*
FHA loans are ideal for people who cannot afford a traditional down payment. Backed by the Federal Housing Administration (FHA), these loans are designed to help First time home buyers and lower income individuals who are not able to qualify for a conventional loan to achieve the American dream of home ownership.
FHA loans are issued by an FHA-approved lender and require just 3.5% down. They tend to have lower credit score requirements than other mortgage products, making home ownership achievable and affordable even if your credit is less than perfect.
WHAT TYPE OF BORROWER MIGHT WANT AN FHA INSURED LOAN?
An FHA Insured Loan is a good option for individuals who don't have a lot of cash on hand for a down payment, and who have trouble qualifying for other types of mortgages due to either a lower income or low credit score. It is often used by first time home buyers, though it is not exclusively available to first time home buyers. If you have owned a home before, you can still qualify for an FHA Insured Loan!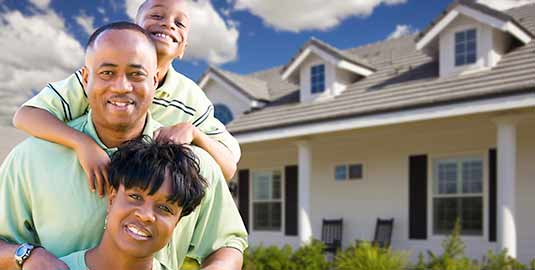 AN FHA LOAN MAY BE A GOOD CHOICE FOR YOU IF:*
You do not have a large down payment. Many loans require a large down payment; FHA Insured Loans only require 3.5% of your home purchase price.
You have a low to moderate income. While there are no minimum or maximum income limits for FHA Insured loans, they typically help individuals whose income is lower than average to qualify for a loan.
Your credit is less than perfect. Individuals with credit scores as low as 530 may be able to qualify for an FHA Insured Loan.
You have not been able to qualify for a mortgage before. Whether you have been denied a mortgage due to your income, your credit score, or haven't been able to get Private Mortgage Insurance (PMI), you may be able to get an FHA Insured Loan.
Our home loan experts are committed to helping you understand all of your options and will help figure out if an FHA loan is a good choice for you. Call or email NOW to learn more and get started on your dream of home ownership!
*TILA Mortgage is not financial service company or licensed tax advisors; the material provided is for informational and educational purposes only and should not be construed as investment, tax and/or mortgage advice. Although the material is deemed to be accurate and reliable, there is no guarantee it is without errors. We are not financial or tax advisors, please contact your financial professional for your personal financial situation.