Access Your Home's Equity with a Cash-Out Refinance Mortgage
With a cash-out refinance, your existing mortgage is paid off and replaced by a new loan with a higher loan amount than what you currently owe. You get the extra amount, minus any closing costs, as a lump sum payment to use as you wish.
TRY OUR REFINANCE CALCULATOR
SCHEDULE A CONSULTATION
How Does a Cash-Out Refinance Work?
Here's an example of what a cash-out refinance looks like:
Example: Let's say you have a mortgage balance of $250,000 and your home value is $450,000. Most lenders will only allow you to borrow 80% of your home's value — in this case, you'd be able to tap up to $110,000 in equity (minus fees) for a maximum loan balance of $360,000.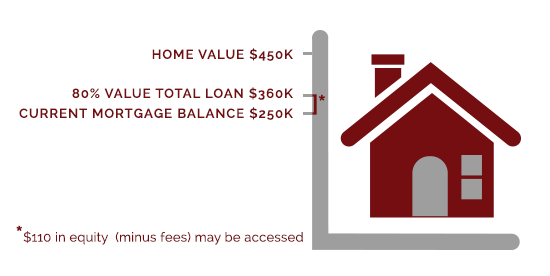 Now, say you wanted to take out $20,000 in equity to replace your roof. With a cash-out refinance, that amount would be applied to your new mortgage's principal balance. So, in the end, you'd take out a new mortgage worth $270,000 — $250,000 to pay off your original mortgage and $20,000 in cash to cover the cost of the roof.
How Much is My Home Worth?
Whether you plan to sell your home, refinance your mortgage, borrow from your home equity or just want to estimate your net worth, it's important to understand how much your home is worth.
While tax assessors, real estate agents, appraisers and automated home value estimators are all available options, each has a different role and will likely have a different idea of what your home is worth. Our best advice is to consider the goal you are trying to accomplish and then ask the professionals at TILA Mortgage to help connect you with the right person.
Fair market value vs. appraised value
The fair market value of a home is typically defined as the price a buyer will pay for a seller's home. In a rapidly moving market, either up or down, the appraised value can lag behind the market. Appraised value tends to lean heavily on what has sold in the area, which could have been an active listing one to six months earlier.
An appraised value depends on the evaluation of a professional appraiser, usually hired by TILA for a refinance or a purchase mortgage loan.
Tax assessments and home value disparities
A tax assessment is done by a city, town or county to determine your home's value for property taxes. The frequency of tax assessments varies. For example, in King County, Snohomish County, and Pierce County, Washington, residential property is assessed yearly. "Sometimes the tax assessor's value is higher than market value, while in other cases the assessor's value is lower than market value. TILA Mortgage can walk you through the process of determining the most accurate value on your home and how that might help you achieve your goals.
Why Choose TILA Mortgage for Your Refinance Loan?
TILA Mortgage is a company who desires to make a difference in the lives of people we assist. For over 25 years we have been serving the Northwest and have hundreds of 5 star reviews.
Our staff is trained from the first conversation to listen to your situation and understand your specific needs and goals. We are focused on helping you achieve those goals with a customized solution that allows us to have a large group of satisfied clients and new friends. Click below to hear our staff and what our clients are saying about us.
We would love the opportunity to have a conversation with you.
Learn More About TILA
Myth 1: Refinancing is cost-free
Homeowners usually hear a lot about how much they can save by refinancing their mortgage, but they rarely hear about the fees and closing costs associated with doing so. This is an aspect of refinancing that often surprises folks.
These fees can amount to as much as 2 to 3 percent of the principal of an existing mortgage. For example, if your fees are 3 percent on a $250,000 mortgage, then your upfront payment is $7,500. TILA Mortgage allows you to roll those costs into your new loan, which will increase the principal you must repay.
"TILA will make sure those costs are more than offset by how much homeowners save in monthly interest payment reductions. Many of the same costs come into play when refinancing a home as when receiving an original mortgage, including appraisal, inspection, origination, and title insurance fees.
Myth 2: A refinance will affect selling the house later
Unlike home equity loans, refinancing your mortgage doesn't put an additional lien on your home — which means it doesn't have an impact on when you can sell. Equity-backed loans, such as HELOCs, use your house as collateral. In those cases, you wouldn't be able to sell until you paid back those loans, or when you sell you must repay the loan out of any proceeds. But refinancing is strictly based on your ability to pay back the loan as evidenced by your credit and employment history. It just swaps out the primary lien on the home with a new one.
Refinancing will not affect a homeowner's ability to sell down the road, since a lender cannot put restrictions on when a homeowner can and can't sell.
Myth 3: You won't need a credit check
It might come as a surprise that lenders require a credit check for refinancing a home loan. After all, you've been repaying the loan on time, so why should lenders want to recheck your credit? But to them it's a new loan, so they must vet the borrower for the current state of their finances. However, borrowers with an excellent credit profile are rewarded with the lowest interest rates.
Generally, homeowners with credit scores over 760 will qualify for the best refinancing rates. With that said, TILA Mortgage is happy to do loans for people who have credit scores of 600 to 800 and have a debt to income ratio of less than 50 percent to ensure that you're not carrying too much debt and can adequately pay back the loan. Some homeowners may be surprised to find out how much loan they qualify for.
Before you apply for refinancing, it's important to talk with one of the TILA loan officers so they can check your credit score and DTI (debt to income) ratio.
Myth 4: You can only refinance your mortgage once
There's no limit to how many times you can refinance your mortgage. However, the fees are real so you have to be strategic with how you go about refinancing. It pays to ensure each refinancing makes sense and make sure you discuss your scenario with a TILA loan officer. Use our refinance calculator to see if this is a route you want to take, particularly if you refinanced your home loan in the past few years.
Do I Qualify for a Refinance?
Although mortgage underwriters do look at a variety of different information when determining loan qualifications, it ultimately comes down to four things: Income, Debt, Credit and Equity/Assets.
INCOME: Employment history and how much you generate in monthly gross income will need to be discussed. Lenders like to have a 24-month history of employment but TILA has programs for people who have 1 year or less as long as you have a history of being in the same line of work. If you are on a salary your work history is not as important as if you are an hourly wage earner. Be mindful that every scenario is different and you should call and talk with a TILA loan officer.
DEBT: Simply put, these are the fixed expenses, in addition to the new mortgage your wanting which are assessed against your gross monthly income (before the taxes are deducted). This will help TILA ascertain whether you are spending less than 50% of the gross monthly income on those fixed expenses. Variable expenses such as utilities, cable or phone are not included in the DTI ratio.
CREDIT: The most important consideration, when qualifying for a home loan is your credit. Unfortunately, it is also one of those areas in which people are unaware of how their credit history impacts the qualification process. Your credit history compels the lender to determine the likelihood that you can pay back the loan. The lender will take the time to carefully analyze your credit history, and establish your reliability profile. They consider how your current debts are being paid back, whether the payments were made on time and if the loan was re-paid in full. All of these factors play a part in determining your credit rating or credit score. Your credit score establishes qualification for a mortgage, and helps in determining the interest rate that you receive. The good news is that TILA Mortgage works with all people on the credit score spectrum. We look forward to having a no pressure conversation with all people. Currently our guidelines allow us to do loans for folks as low as 580.
*TILA Mortgage does not guarantee that your debts will be lowered by a specific amount or percentage or that you will be debt-free within a specific period of time.  A debt consolidation may increase your monthly cash flow, but may increase the amount of your debt over a period of time by including the additional debt in your mortgage amount, which is financed over a longer period of time than the debt consolidated may have been financed.  We encourage all consumers to do their own research, and examine their options carefully before selecting a particular course of action.